10 x Prettyvol Ultra-Gold Eye Mask
Regular price

$124.99 USD

Regular price

$300.00 USD

Sale price

$124.99 USD

Unit price

per
Make your under-eye skin healthy & beautiful! Because your skin deserves special attention
If you are tired of dark circles & want to see your under-eye skin always shining – just pay attention to our 24K golden under-eye masks!
Share Link
Why It's Special

In Short, Our eye masks will help reduce puffy eyes, help remove bags under eyes, and help soothe your under-eye area, making them the perfect eye pads for wrinkles & puffy eyes!

We guaranty quick results in 30 minutes, so you don't need a lot of time to see the effect.
Shipping

Please note that we need 1 business day to process your order


Due to the extremely high demand while still offering free shipping these are the shipping times you can expect:

USA: 1-3 business days
EU: 2-5 business days

Rest of world: 10-28 business days

(Business days are Monday-Friday. Public holidays excluded. All delivery timeframes are an estimate only.)
FAQ's

→ Can I apply it on my forehead?

Ultra-gold Prettypatches are safe to use on your forehead



→ Can I use it every night? Or every other day?

You can use Ultra-gold Prettypatches every night



→ Do I use this before or after a face mask?

We recommend using Ultra-gold Prettypatches after face mask



→ Does it remove eye bags?

Ultra-gold Prettypatches help remove eye bags, and soothe your under-eye area



→ Will these eye masks be suitable for the elderly?

Ultra-gold Prettypatches is suitable for everyone 15 and older



→ Does this eye mask contain animal-derived glycerine?

Prettyvol is a cruelty-free company and Ultra-gold Prettypatches do not contain animal-derived glycerine



→ Do Ultra-gold Prettypatches slide down?

Ultra-gold Prettypatches stay in place until you remove them
How To Use

Each package has 16 Pairs
Apply 2-3 times per week and Use it before an important event and you will see that smooth under-eye skin is not a fairy tale!

Warm Tips
It also activates the emergent mechanism for young skin
1: Apply to the corner of the mouth: remove lip wrinkles.
2: Apply to the chin: improve the dullness.
3: Apply to face: replenish moisture.
4: Apply to the forehead: improve the fine lines.
5: It can be used to wash the face after diluting with warm water

Money Back Guarantee

We offer a risk-free Money-Back Guarantee if you have not achieved any results after 12 weeks of use.
Ingredients

Nano-Active Gold, Hyaluronic Acid, Molecule Collagen, Vitamin C, Rose Essence, Licorice, Oat Peptide, Flavonoids, Lutein Extract, Diatomi Polysaccharide, Water
Customer Reviews
12/01/2020
These are great. As a full time mom, full time student, and working part time, I don't get enough sleep so I always have puffiness under my eyes. These really do help reduce that puffiness from the lack of sleep! They are super easy to apply and definitely recommend putting them in the freezer for an hour before using them, they feel so refreshing.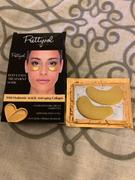 11/01/2020
After using these a few times, the area under my eyes is less puffy and dark.
10/01/2020
Used this product for under my eyes and it works! I will keep this product in heavy rotation during my beauty regimen. Just as other reviewers mentioned chilling the patches first works best!
10/01/2020
Wow! I was truly impressed
09/01/2020
Soft and cooling, doesn't irritate my skin.